Rainham v Rochester - Stephenson Cup - Board One
Thursday 15 November 2017
White: K. Nevols (157) - Black: T. Owens (173)
A short trip across to Rainham to play for Rochester - and I discover I am up against an old Swale team-mate, who I knew to be a very strong player.
1. e4 c6
The Caro-Kann. I had put on the club's website a game which I won by using 2. Ne2. Figuring my opponent might have something prepared I decide on plan B - the exchange variation - with 2. d4 d5 3. exd5 cxd5 4. Bd3.
2. d4 d6
But it is not to be - we enter a form of Indian defence.
3. Nf3 Nbd7
4. Be2 e5
5. Nc3 Be7
6. O-O Qc7
So my development is going OK, and Black is somewhat behind. I am planning to put my bishop on e3 and so prepare in advance against a knight or bishop landing on g4.
7. h3 Nf8!?
Black has a plan.
8. Bc4 h6
9. Be3 g5?
And here it is. Black is a keen fan of mixing things up, and his plan is to leave the king in the middle, advance the kingside pawns and place the knights behind them.
I now overlook the fact that White can now win a pawn with 10. dxe5 dxe5 11. Nxe5 (11. ... Qxe5?? 12. Bd4) but then Black might be intending to sacrifice this to play 11. .. Ne6 and then b5 and b4.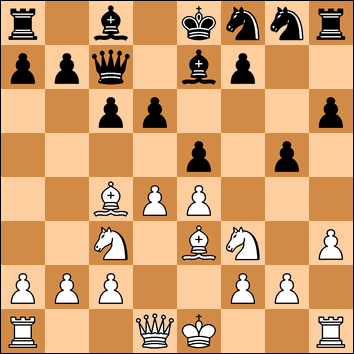 Instead I decide to defend the g4 point.
10. Nh2? Ng6
11. Qf3 Nf6
12. Ng4 Bxg4
13. hxg4 Nh4
14. Qe2
I was now thinking whether I could get an attack with g3. Kg2 and using the h-file.
14. .... Qd7
White really needs to open up the position while Black has his king in the centre. 15. dxe5 dxe5 (15. .. Nxg4?? 16. e6!) 16. f3 is good, with a rook coming to the d-file next. I kept the centre closed as I wanted to limit the bishop on e7.
Another idea for White here, which I did not see at this time, was 15. Nd5. The loose g-pawn was occupying my thoughts but White could sacrifice it with 15. Nd5 Nxg4 16. Nc7+!? Qxc7 17. Qxg4 and get some play.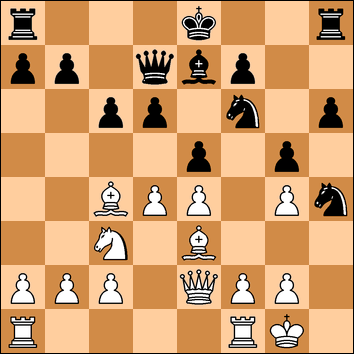 15. f3 Ng6
It was here that I now saw 16. Nd5. It looked flashy but might be effective.
I concentrated on the Black reply 16. .. Nf4 although Black could play 16. .. b5 17. Nxf6+ Bxf6 18. dxe5 Bxe5 and then either 19. Bb3 Bxb2 - and White would have to play 20. Rad1 to try to get some play for the pawn - or better would be 19. Bd3 Bxb2 20. Rab1 Be5 21. Rxb5 Nf4 22. Bxf4 Bxf4 23. Rb1 with an equal but possibly eventful position.
The reply I focused on was 16. Nd5 Nf4 17. Nxf4 gxf4 18. Bf2 but I did not like the half-open g-file and the possible play against my king. I decided to protect the f4 square first.
16. g3
After this big think, I now had 27 minutes left for 19 moves. Keeping a knight out of the game can't be bad.
16. ..... h5?!
Staying in character by keeping the attack going. The computer now recommends 17. Rad1! preparing dxe5. It also considers 17. d5 hxg4 18. dxc6 bxc6 19. fxg4 Qxg4 20. Bxf7+! These are both better moves to what I played - I just liked the flashy idea and was very reluctant to open any files in front of my king.
17. Nd5
Black admitted after the game that he did not see this.
17. .... b5
Now there are two alternatives. I gave a lot of thought to 18. Bd3 hxg4 19. Nxf6+ Bxf6 20. fxg4 but did not like it - although it is not so easy for Black to defend. 20. .. Be7 21. d5, or 20. .. Qe7 21. d5. He has to find 20. .. exd4 21. Rxf6 dxe3 and then 22. Qxe3 Qxg4 is equal or 22. Rf5 f6! 23. Rxf6 Qh7 24. Qg2 Ne5.
But with the clock ticking and the time running, I decide to simplify.
18. Nxe7 Kxe7
19. Bb3
We later discovered the interesting 19. Bg5!? bxc4 20. f4! and White has a fantastic attack for the piece. Needless to say, I did not see that - and I probably would not have played it if I had.
19. ...Nf4!?
So Black decides to sacrifice the piece instead - a brilliant Tal-like tactic in the circumstances. In return Black gets a great attack but if White plays calmly he can hold this off with 20. gxf4 gxf4 21. dxe5 or 20. .. exf4 21. Bd2 hxg4 22. e5!.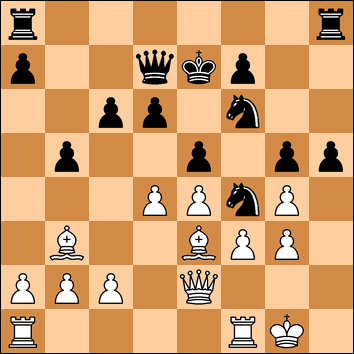 Instead I take Black at his word.
20. Bxf4? gxf4
21. dxe5 dxe5
22. Rad1 Qc7
Now White should play 23. g5 dislodging the knight. 23. .. Nh7 24. gxf4 exf4 25. g6! fxg6 26. Qg2 Kf6 27. Qd2 - White is a pawn down but might have compensation in the fact of the open King. Or 23. Qf2 is another idea with 23. . c5 24. g5 Nh7 25. g6 fxg6 26. Bd5 - a nice square for the bishop
23. gxf4? hxg4
24. fxg4??
Two blunders which open up the kingside for Black to neatly finish off.
24. ... Nxg4
I simply overlooked 25. Qxg4 Rag8. White is now simply lost.
25. Qd3 Qb6+
26. Kg2 Ne3+
27. Resigns
A great game played by my opponent with sacrifices and gambles which came through. The great Latvian player Mikhail Tal made his name for making sacrifices that were later proved to be unsound but which the opponent could not defeat at the board - and this game reminds me of that.
Rainham v Rochester
Alistair Compton (186) 1-0 Keith Hyde (166)
Trefor Owens (173) 1-0 Keith Nevols (157)
David Barnes (173) 1-0 Martin Tsatsarov (136)
Chris Marshall (151) 1-0 Vytautas Gedminas (130)
Stephen Pike (134) 0-1 Tyrone Jefferies (116)
Gary Clifford (110) 0-1 Andrew Gillard (107)
Rainham 4-2 Rochester