Kent v Middlesex - Board One
Saturday 27 January 2018
White: K. Nevols (157) - Black: P. Kennelly (158)
A re-match - we had played in Brent for the first Middlesex v Kent match where I had held a draw.
1. e4 e6
2. Qe2 c5
My anti-French moves to a closed Sicilian.
3. Nc3 Nc6
4. f4 d6
5. Nf3 Be7
6. g3 Nf6
7. Bg2 a6
Black delays castling and decides to advance on the queenside.
8. O-O Qc7
9. d3 b5
10. e5
I could have played this move on either of the last two moves but wanted to complete my development. Now I intended 10. .. dxe5 11. fxe5 and then perhaps Bf4.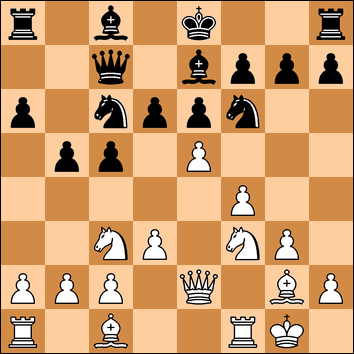 10. ... Nd7?!
But this is a mistake. White can now grab the initiative before Black has castled.
11. exd6 Qxd6
After 11. ... Bxd6 I had considered 12. Ne4 Be7, where I would have calculated the merits of 13. f5, and also whether 12. Ng5 would get anywhere.
12. Ne4 Qc7
13. f5!
I gave a lot of thought to this move. Black's best would be to decline the sacrifice with 13. .. e5 keeping lines closed. And then 14. Nc3 Nf6.
13. .... exf5?
14. Bf4 Qd8
15. Nd6+ Kf8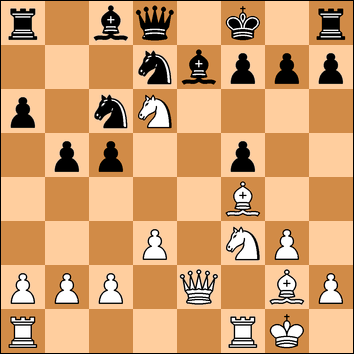 This was the position I had foreseen when playing 13. f5. I considered 16. Ng5 but could not see how to follow after 16. .. Bxg5 overlooking that White has 17. Bxg5 Qxg5 18. Qe8 mate, so Black would have to play either 17. .. f6 18. Bxc6 or 17. .. Nf6 18. Bxc6.
So after 16. Ng5 Black has to play 16. .. Qb6 then 17. Ndxf7 gets the pawn back and retains a strong attack.
Instead I decide to bring another piece into the attack.
16. Rae1 Nf6
Black needed to play 16. .. Ra7! to reduce White's tactical possibilities. Now White wins with 17. Ng5 - opening up an attack on the c6 knight. The attack is overwhelming. One line is Bxd6 18. Bxd6+ Qxd6 19. Bxc6! (19. .. Qxc6 20. Qe7+ Kg8 21. Qf7++; 19. .. Ra7 20. Qe8+).
But .... I simply do not see all this.
17. Nxf7? Kxf7
18. Ng5+ Kg6
19. Bxc6 Ra7
So material is now level but White is still better. How should he continue? I saw (or thought I saw) a combination to finish it off - and did not see that 20. Bb8 wins the exchange.
20. Nf3? Bd6
21. Bxd6 Qxd6
22. Ne5+ Kh6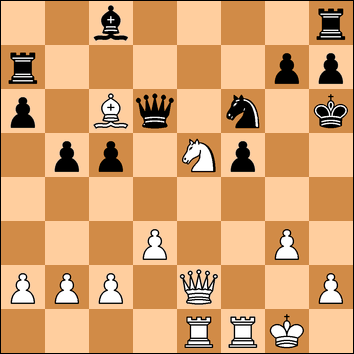 And now I was going to play 23. Nf7+ .... until I saw that the a7 rook was protecting that square. D'oh!!
Silently kicking myself, I tried to see how to continue. Could I still attack his exposed king? Yes - is the answer.
23. Qe3+ g5 24. Bd7!! Qd4 25. Qxd4 cxd4 26. Bxf5 and I am a pawn up. I did not see 24. Bd7 at all. And began to get worried that my pieces were getting vulnerable.
23. Qd2+ g5
White should play 24. h4 but I was worried about the Black rooks coming to the g-file and the Black queen pointing at g3.
However White still wins in this line. 24. ... Rg8 25. hxg5+ Rxg5 26. Kg2! or 25. .. Kg7 26. gxf6+. or 24. .. Kg7 25. Qxg5+ Kf8 26. Qh6+ and a strong attack with either 26. .. Kg8 27. c4! or 26. ... Rg7 27. g4!
Unable to see all this - or be brave enough to try it - I consolidate my position.
24. Qg2? Kg7
Perhaps Black feared Qh3+ or was relieved that he looked like getting out of this alive .. but 24. .. Re7! and he takes over the advantage. 25. Nf3 Rxe1 26. Nxe1 Ng4! 27. Qf3 Qd4+ 28. Kh1 Qxb2 - and it is now Black who has the pawn lead.
25. Qd2 h6
With this move Black offered a draw which I accepted with a heavy heart. The position is indeed now equal but I had the sense that I had missed winning chances - and I was right.